Disfruta del Arenal Sound con Unicampus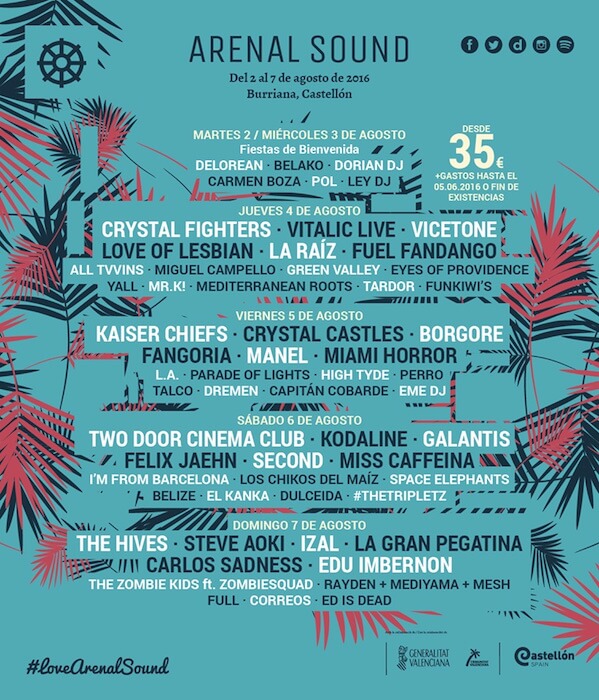 Si algo se ha puesto de moda en verano es ir con amigos a un festival. No es la primera vez que os lo decimos, por lo que hemos decidido acercaros a uno de los festivales mas molones de España. Así es, no tendrás escusas para no visitar uno de estos fiestones que se celebraran por diferentes ciudades españolas. ¿Todavía no sabes a que festival me estoy refiriendo? Ahí van algunas pistas:
Podrás disfrutar de la playa
Está en Burriana, Castellón
Se celebra del 2 al 7 de agosto
Porqué ir al Arenal Sound
Sí. Es ese que estas pensando. Nos estamos refiriendo al Arenal Sound. El festival de los festivales que se celebran en menos de quince días.
Disfrutarás del pop, indie, rock, electrónica, playa, sol y conocerás a un sinfín de gente de todas ciudades, ya que este festival alberga a miles y miles de personas que esperan la llegada de este festival cada año como agua de mayo. Unicampus, te acerca una vez mas dónde está la fiesta. Sin querer meterte prisa, te adelantamos que tan sólo quedan unas pocas plazas. Reúne a tus amigos y convénceles de este planazo. Te llevamos en autobús, por lo que no tendrás ningún tipo de problema para aparcar y tu única preocupación será ver a tus artistas favoritos.
Cartel Arenal Sound 2016
Jueves: Crystal Fighters, Vitalic Live, Vicetone, Love of Lesbian, La Raiz y Fuel entre otros.
Viernes: Kaiser Chiefs, Crystal Castles, Borgore, Fangoria, Manel, y Miami Horror.
Sabado: Two door, Cinema Club, Miss Cafeina, Second, Kodaline, Felix Jaehn, entre los mas destacados.
Domingo: The Hives, Steve Aoki, Izal, La Pegatina, Carlos Sadness y Edu Imbernon.
Resaltar que tan solo hemos seleccionados a unos cuantos artistas, si vas, veras que el cartel esta repleto de artistazos.
¿De verdad te lo quieres perder?